Home
About Hunting
About Me
The 10 Commandments
The Hunt
Rifles & Calibers
&nbsp &nbsp &nbsp The .270
&nbsp &nbsp &nbsp The .308
&nbsp &nbsp &nbsp The .30-06
&nbsp &nbsp &nbsp The 7mm Mag.
&nbsp &nbsp &nbsp The .300 Mag.
&nbsp &nbsp &nbsp The .338 Mag.
Sighting In
Conditioning
Dealing With High Altitude
Clothing & Gear
Tips
Learn About Elk
Elk Calls & Bugles
Shot Placement
The Rut
Your Friend The map
After It's Down
Field-Dressing
Quartering
&nbsp &nbsp &nbspQuartering Without Gutting
Camping Equipment
Self Guided Hunt
Guided Hunt
Elk Hunting In Jackson Hole
The National Elk Refuge
Predator Or Prey
The Grizzly Bear
The Black Bear
Bear Identification
Precautions In Bear Country
State & Federal Agencies
Taxidermy
Dedication To My Wife
Photos
Scenery From Where I Hunt
Elk Meat & Nutrition
Helpful Links
Elk Hunting Message Board
E-Mail
Guestbook
Read my Dreambook!
Sign my Dreambook!
Find these missing children
Hunting Rings




Here you can view pictures of Elk which were taken by me. First I will show you what it is that you will be hunting for.


This is a beautiful Bull Elk just before the start of hunting season in 1996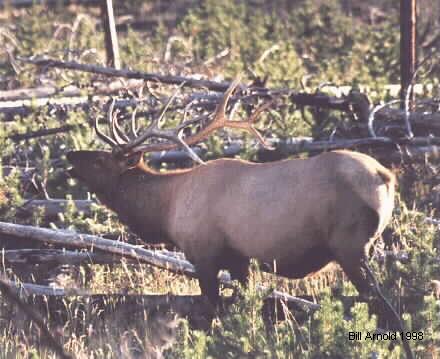 The next two photos are during the month of July when their antlers are in velvet and growing fast.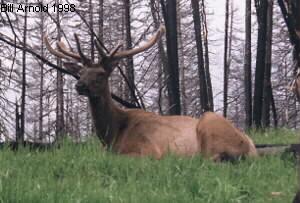 As you can see they are two different Elk but were photographed about the same time of year.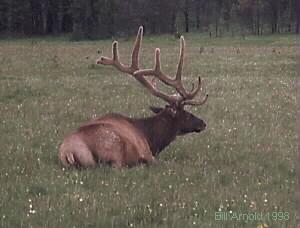 Here is me with my first Elk. Yes it's a cow but it was a learning experience that I will never forget.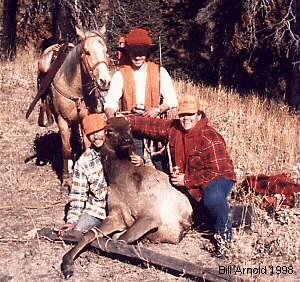 This is the Elk that made me want to give up hunting for I was not in the physical condition that is required for Elk hunting. Hopefully you will not do what I was foolish enough to do. I never realized just how big they were until it was down. And I never realized how much work it would be to get it out. From here we took the horse in to get another Elk that was taken at the same time as mine. That was the Elk that gave me my wake up call.

This is my first decent elk taken, a 7x7

During the hard months of winter the Elk will go to their winter grounds. Here you will see Elk on The National Elk Refuge.


Note the Elk in the background.